My daughters gave me
Mice and Mystics
as a christmas gift, and we managed to play a couple of games in March this year. The girls really like it, so I went in typical wargames hoarder overdrive and managed to buy all extensions to the game (
Heart of Glorm
, which is in effect OOP, but I managed to find a copy in an obscure gameshop in the Netherlands;
Downwood Tales
, which was almost OOP, but I managed to find a copy at a gameshop here in Sweden that tend to have good stuff) and the follow-up
Tail Feathers
.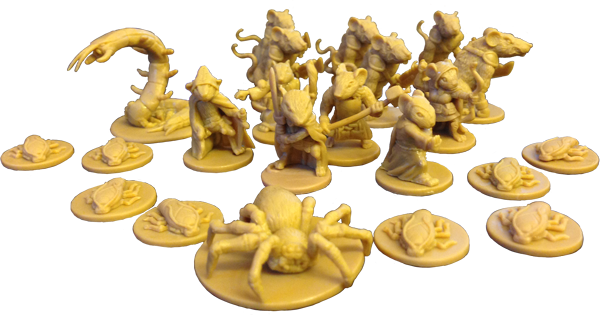 Mice and Mystics, original figures (so you can compare with the Boxes of Fury ones)
Going through the rules and scenarios (for an extensive review, check
boardgamesgeek
, I notices that for some special characters or variants on creatures, they advice to use the normal creatures that are included in the game, with a token. Now obviously that won't do (after all, I am a hoarder and buy variants of the same tank to use as supports in Chain of Command...). So off I went on another frenzy looking online, and at 3D print providers for alternate characters. Most of the stuff I managed to find at
Reaper minis
, and some stuff was printed by a friend of mine (
Jocke
, front and center). And I also found
Boxes of Fury
.
Boxes of Fury is a (very) small operation in Russia, that have some special characters for Mice and Mystics, that are hard to find alternatives for. They looked nice and the prices were reasonable, so I ordered a couple of them. After a lot of shenanigans with the Swedish Post (who handle import and VAT for Swedish Customs), who managed to send back a package (upon which Andrey, the guy behind Boxes of Fury, immediately resent my order even before he had got back the original one (and free of cost!)), and then took 3 weeks to propery customs handle the new package... But today I got them, and they were well worth the wait.
Every figure/set comes in a nice little container that I can think of many ways to reuse ;-)
I ordered Captain Vurst (the baddie from the original game), King Shalop (the king baddie from Downwood Tales), as well as some pets that can support the good characters in the game (slugs, a ladybug and an ant-lion). I also found the Cheese Golem in the box (Thank you, Andrey!!!).
Captain Vurst - even at extreme magnification (this figure is 2,5cm high), you can see the clean sculpt and casting
King Shalop
All figures are neatly cast in resin. They are lovely figures, nicely and realistically sculpted and well fitting in style with the figures that come with the games. The resin is neat and free of flash. For some figures minor assembly is required, and bases as well as a piece of copper plated steel rod for the flying ladybird are included. I really like the figures, and I can really recommend them. I can also really recommend Boxes of Fury as an operation - Andrey was very quick and helpful (as mentioned above when resending the package).
Bases (here add-on bases for the pets) are included for all figures.
Here you can also see the piece of steel rod for the ladybug.
The Cheese Golem
All the pets, with bases for the ant-lion and the ladybug (and as mentioned a piece of copper plated steel rod for the latter, if you want to make it fly)
I hope to get these on the painting table, together with all the figures from the original set and first extension next week (this week I'm painting Star Wars: Legion figures, for a game on Friday, using Crooked Dice 7TV rules - more on that later, hopefully)